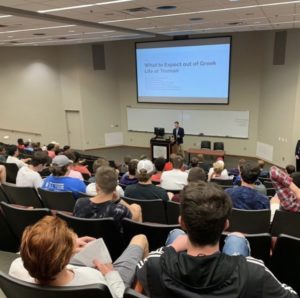 Recruitment is the process by which Fraternities introduce themselves to potential new members or rushees. During this time, rushees will be introducing to the twelve Fraternities throughout campus. Recruitment is successful when each rushee finds the Fraternity that is right for him.  Through getting to know the brothers, what they do, how they act, and what they stand for a rushee will better understand himself and join an organization that he will be proud to call his Fraternity.
At Truman, Recruitment is a formal process that lasts for one week.  The Recruitment Assembly, hosted by the Interfraternity Council, will take place the day before formal events start, and rushees will be given the opportunity to hear from the various fraternities throughout campus and get to know them better. The next day, and for several days at the beginning of recruitment week, are open invite events where all rushees are allowed to explore the fraternities. These events may be on campus, at chapter houses, or elsewhere.  As the week draws to a close, fraternities will start hosting invitation-only events.  By this time, rushees start narrowing down the list of organizations they are interested in.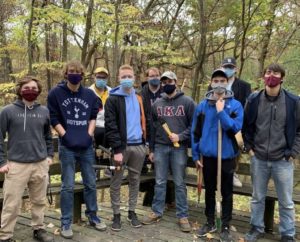 While you may go into recruitment with pre-conceived notions of different fraternities and fraternities in general, it is important to see for yourself which one is right for you.  During the week, you should try and visit as many chapters as possible.  If you are not sure whether Greek Life is for you, there is no obligation to join a fraternity at the end of recruitment week.  All that we would ask of you is to approach recruitment with an open mind.  After all, it can't hurt to give it a try!  Come out to recruitment and see if Greek Life is right for you!
Make sure to check out the Recruitment assembly is February 5th at 5 pm in Violette Hall room 1010
Specific recruitment-related questions can be directed toward

our VP of Recruitment, Dylan de Leon

drd7476@truman.edu